Please click on the link to fill in the pre visit screening form. Thank you so much.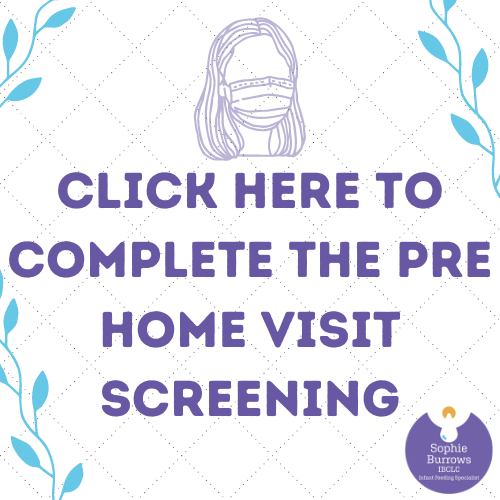 In accordance with my insurance company guidelines I can undertake home visits in special circumstances.
In order to undertake these I will be following these steps to ensure the safety of my clients and me.
When you get in touch to book a consultation we will speak email to determine whether an online or home visit will be more suitable to meet your needs. (Online consultations have proved to be very effective during the COVID-19 crisis and I will continue to offer them as part of my practise. They are a more economical way for you to receive breastfeeding support as I do not have to factor in travel times to my pricing.) I have helped over 100 families virtually over the course of the pandemic.
If we decide a home visit is appropriate, I will ask you to confirm that no one in your house is displaying symptoms of Covid-19 by using the form above. I will also ask you to confirm you've had no contact with anyone else symptomatic. I will of course inform you if anyone in my household is ill as this will mean I am unable to visit you at home.
I will arrive at your home with the appropriate PPE and will try to keep the visit as low contact as possible. However, for certain clinical assessments like an oral assessment I will use appropriate PPE, most of which is single use and disposable, to ensure we are all kept safe.
I will thoroughly clean any and all equipment used at each visit.
Sophie Burrows IBCLC will wear: Eye protection, FFP 2 face mask, Gloves, Disposable apron.
Gloves are changed throughout as necessary.
Sophie has handwashing facilities in her car and will come with clean hands in to your home and gloves. Before and after oral assessment Sophie will change gloves and may need to utilize your handwashing facilities in your home to do this but has her own hand wash and drying implements.
Sophie brings with her (where possible) items that are wipeable which ensures ease of cleaning.
Consultations in a home visit setting are kept as short as possible to reduce the risk to everyone. This is done in conjunction with meeting the dyad's needs.
Sophie will remove PPE and dispose of it safely post consultation in her car.
Sophie will limit to one home visit per day and if more are needed she will change her clothes in between.
Sophie requests that everyone considers wearing a face mask when in a home visit situation but understands that this isn't always possible.