The first 1000 days of life (2.7 years)
The newest report by the House of Commons, Health and Social Care committee called "First 1000 days of life"
A disappointment for those in the breastfeeding community. A disappointment for mothers and families in the country. A well written report that focuses on key points but devastatingly missed out breastfeeding.
When I'd heard about this report being put out to the public, I quickly sent it to my printer and grabbed my pen. I read and read and read. I hoped that on the next page infant feeding might be noted as an important factor for babies and for parents. I turned to the next page, and the next. No infant feeding mentions. Not until the Annex about the mum's net forum.
There's the one and only mention of breastfeeding in the report.
That's it.
Yes, to mention of:
Problems with variation on family support and its priorities
Staffing number issues
Acknowledgment that the first 1000 days are important and policy makers don't give it enough attention.
Government not intervening soon enough in childhood
Acknowledgement that a child's health and development are able to be influenced. And theirs parents diet has a bearing.
Parents feel lonely and isolated
Parents experiencing depression
Issues with local authorities not prioritising early years and government should be incentivising and supporting them to do so.
Knowledge that since 2009 there an estimated over 1000 children and family centres closing which is having a negative effect on families and children.
Parents reporting that they are having limited opportunities to feed back about their experiences of the services they have received and are rarely told how their feedback is acted upon.
Parents reporting that help takes too long to get in many aspects to do with immediate family care.
Issues with those giving interventions perhaps not doing it with the most up to date evidence.
Highlighting the need for the whole family to receive support, dads are important (or partners)
Sex and relationship education should be getting taught at school (would be nice if they included breastfeeding here)
Continuity of care is a really important factor, same HV, Midwife for appointments.
Funding needs to be increased for these early years not decreased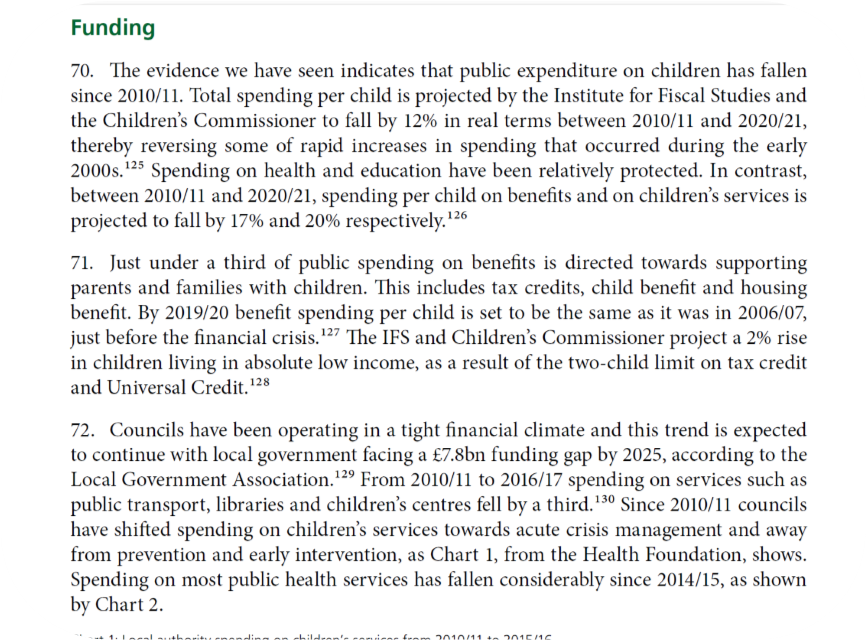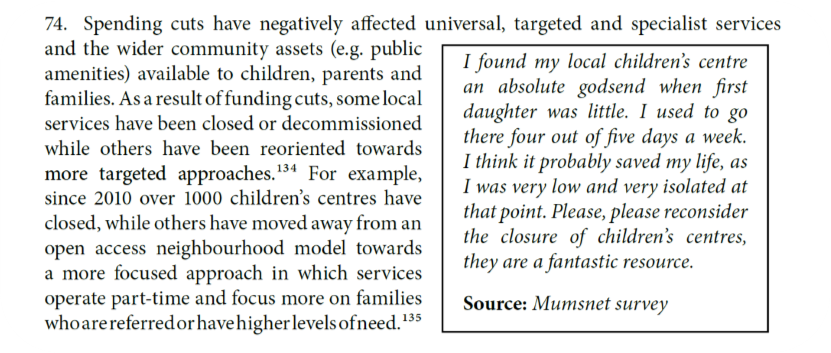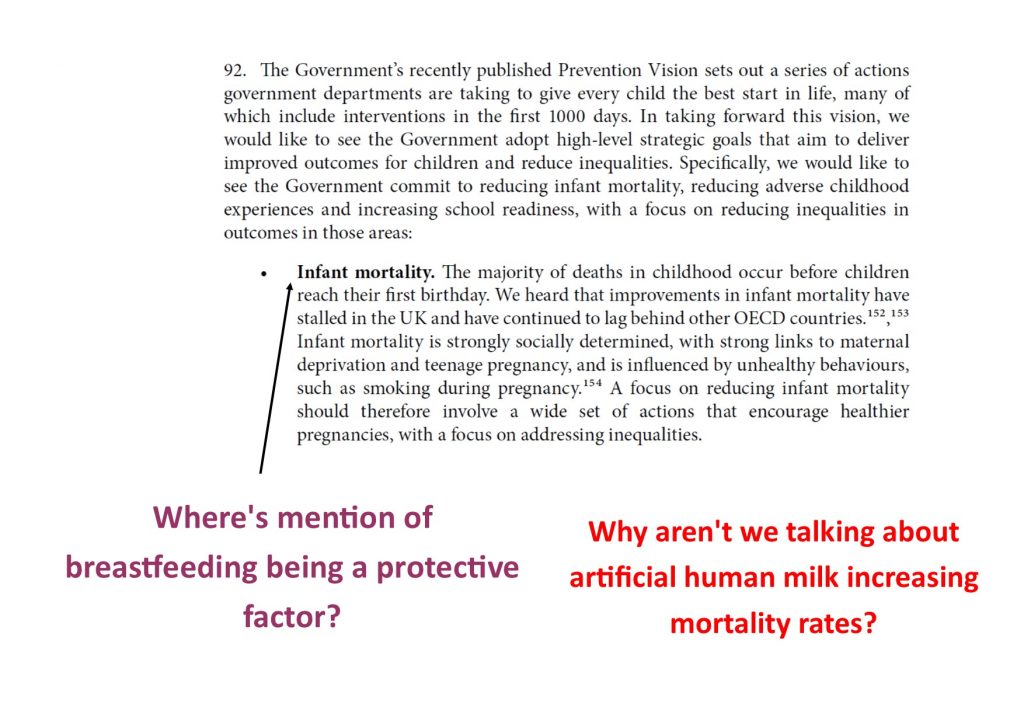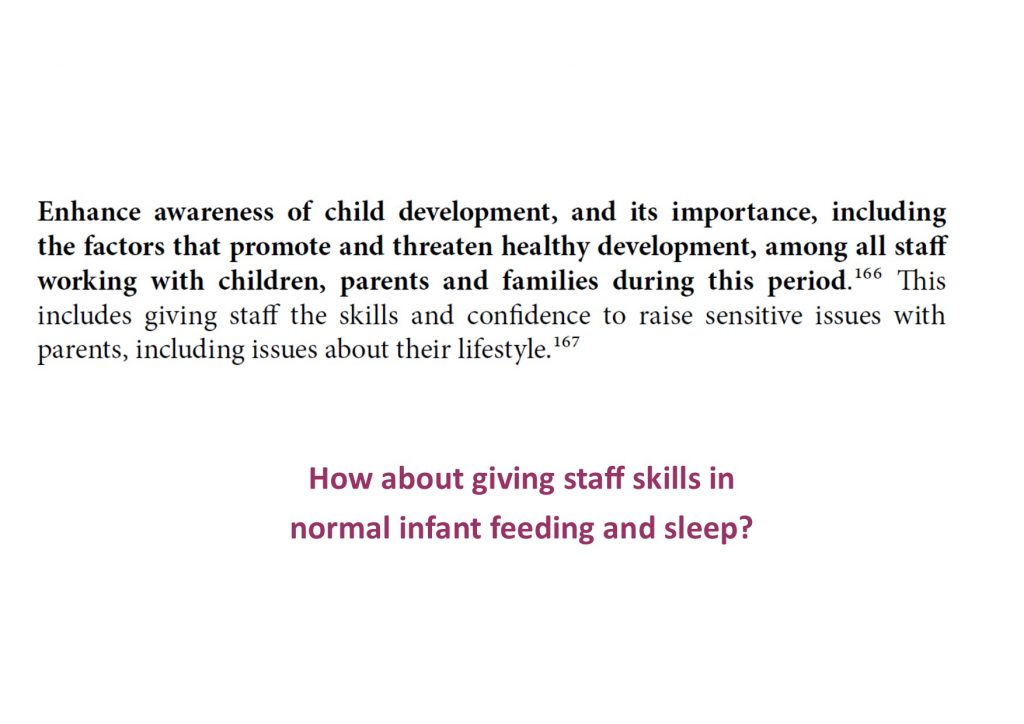 Despite at least 3 organisations writing with clear evidence of the importance of infant feeding and nutrition to the committee
Yet breastfeeding is invisible still. We are literally made of the stuff we eat, especially in those early days. Every cell is a result of what we ingested and for those early years its human milk that should be supported to be going in.
More needs to be done to get breastfeeding in front of those that need to know that this needs to change. All of us who support breastfeeding are part of that change. Getting in contact with local infant feeding leads. Going to meetings about infant feeding. Taking the opportunity to bring it up with your MP are all ways of making sure they cannot ignore it.
There should be at least one person trained to IBCLC level that is available for access within every GP surgery, every clinic, every hospital, every family centre 24 hours a day 365 days a year to support normal infant feeding (breastfeeding). To advise when an infant has issues with feeding or when a mother has issues. The NHS should be telling mothers about the organisations around to help with breastfeeding and they should be encouraging communication with them in regards to long term support. The science you need to know why this is important will be in those responses that the three listed organisations above sent in.
Government policies make a difference to our overall care and this report essentially sets the tone for breastfeeding for the next year to come. It's not important according to the government.
I'll tell you who thinks otherwise, all the mothers, the 80% who begin breastfeeding, WANTING to breastfeed and the 76% of mothers who give up by 6 weeks because they couldn't keep going any more with pain, discomfort, not know if there was enough milk or not, the worry the lack of support given to them by untrained people with lack of time to give and the 99% by 6 months no longer breastfeeding because no one gave them the support they needed.
I've recently heard of midwifes having to stop practicing for a time to begin to feel again. They lose their excitement at each birth and realise that its complete burnout that they are experiencing. This must be happening in all other sectors too.
Mothers report a lack of empathy from their health care providers constantly when I'm with them.
Burn out is real and its in the NHS and their customers are suffering because of it, this report doesn't highlight that and its at the detriment of the children's first 1000 days of life.
I am sad about this report. I am angry about this report. I'm frustrated about this report. I want breastfeeding to be given the space and voice it needs within our culture and community as an important part of the healthy development of babies and children. I hope you will all join me to do just that in the future.
Does our government have a clue?